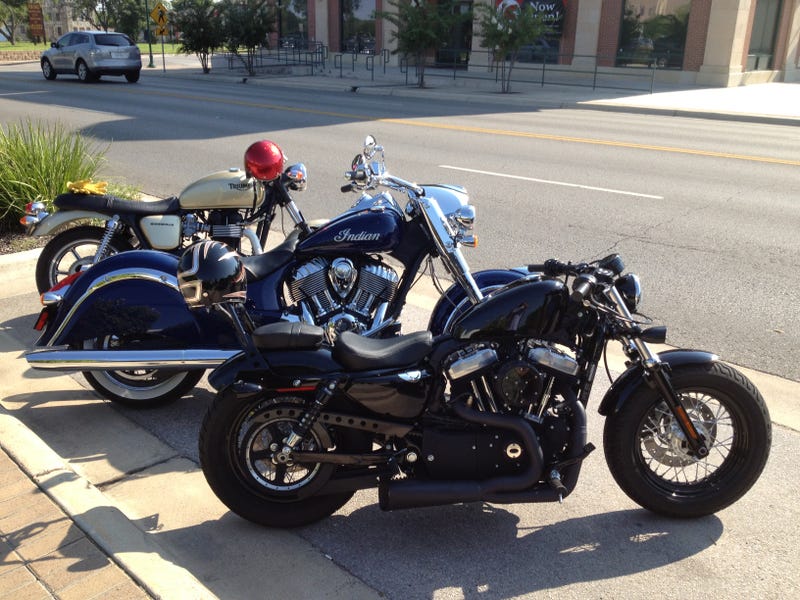 4Nines and I decided to load up the girls on the bikes and head out for a nice breakfast over in a little place just outside Austin. We pull up to the Monument Cafe, and my girlfriend seems to sense what my eyes are focused as we zone in for a park next to a motorcycle already sitting on the side of the road, and she asks, "What kind of motorcycle is that?!?" I have to take a few looks, and think to myself, "I wonder what year that one is..." It is just about that time that I zone in on the "111" on the cover. Holy Crap! This is a brand new 2014 Indian Chief, and I am about to park next to it! This cannot be happening! What are the chances?!?! Slim. Those are the chances.

We loiter around and snap a few pictures and think to one another, that we have got to find the guy who has this thing. It has dealer plates out of Wisconsin (I think), so we think that he had to have picked it up at the press event in Sturgis. That is the only way! We are walking in, and this guy slips passed us with a 3/4 helmet in tow, and we think that he has to be the guy. I catch him and ask the obligatory, "Hey brother, is that your Indian out there?" He replies that yes indeed it is his. As I evaluate him a bit further, he has an Indian tee shirt, and a dope Indian Dickies jacket on. Of course this guy is rolling on the Indian. 4Nines gets to us within a breath of me asking about his ownership, and we stand there and talk to one of the nicest guys ever for about 10 minutes! Dude was super nice, and answered all of our questions. Turns out he is part of Indian Motorcycles, and had just come from Sturgis. Holy Crap! How crazy the stars are!

That is my Triumph Bonneville in the back, and 4Nines' HD 48 in the front for a reference to size.

Click on through to check out 2014 Indian Chief Classic High Resolution Photos.